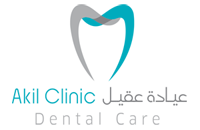 Dr. Mohamed Akil, DDS.
Dr. Mohamed Akil is a Certified Oral Implantologist and a Member of the American Academy of Implant Dentistry (AAID). He has over 8 years in clinical practice of General and Cosmetic Dentistry in Al Ain and Northern Emirates of UAE. Earlier, Dr. Akil served as a Faculty Member at the Department of General Dentistry, School of Dentistry, Ajman University of Science and Technology (AUST) for more than 5 years, where he supervised over 300 pre-doctoral dental students.
Dr. Akil earned his Doctor of Dental Surgery (D.D.S.) in 2007 from the AUST, School of Dentistry, Ajman, UAE. Then, he enrolled in a Clinical Internship Program in General Dentistry (2007-2008) at AUST, School of Dentistry. In 2011, Dr. Akil pursued a Postdoctoral Clinical Fellowship in Implant Dentistry at the AAID's MaxiCourse® programs, which are the most respected and comprehensive training programs in Implant Dentistry. In 2012, and after he demonstrated the highest standards in Implantology, Dr. Akil became a member of AAID.
Dr. Akil maintains his commitment to quality and comprehensive care by actively taking continuing education courses to further advance his skills and education in all fields of dentistry with emphasis on Cosmetic and Implant Dentistry. For instance, he joined an advanced course in Cosmetic and Reconstructive Dentistry as well as a course in Conscious Sedation for pediatric and adult patients.
Dr Akil voluntarily participated in implementing Community Oral Health Program for primary school children and contributed to the Labor Camp Oral Health Program; one that served the underprivileged patients by providing them with free dental care. Dr. Akil's personal interests in photography and physical fitness balance his professional interests in dentistry.
Dr. Akil's treatment approach to his patients is to integrate the art and science of dental cosmetics to address the dental problems of his patient. His recommended treatment plans are always comprehensive with the consideration for best and most beneficial options to the well fare of his patients. Dr. Akil main goal, along with treating patients on individual basis, is to be able to treat them on a larger scale through using the dental research process that provides them with alternative treatment options.