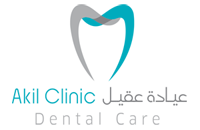 Mission
To raise the standard of dental care by focusing on the patient experience and providing personalized conservative dental care with unparalleled customer service and amenities.
To utilize a team approach of experienced and compassionate dental care providers working towards a common goal of a pleasant patient and clinical outcome.
To provide comprehensive dental care in a progressive, friendly setting along with utilizing modern equipment and advanced techniques.
Looking forward to be affiliated with a major Dental Universities to be able to provide not only the patient but also the professional community with the proper resources and techniques to raise the awareness and importance of preventive oral care.
Vision
The Akil Clinic goal is to establish ourselves as one of the leading reputable dental centers in the region.  We strive to provide the highest standards in excellence for dental and oral health care for Al Ain community, as well as the GCC.
Our Values
We will communicate openly and honestly with each other and with our patients. In order to achieve the results we strive for we will do our best to understand our patient's needs, concerns, and choices. We will continually strive to advance our skills, systems, and care to make our patients confident in placing their trust in our long term professional relationship.