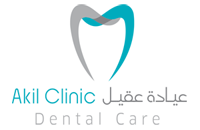 Akil Clinic is a new, state-of-the-art center that offers world-class Dental Care for the entire family. Our center, located in the heart of Al Ain Oasis, provides a unique boutique setting that is operated with International Standards.We believe that going to the dentist does not need to be painful or traumatic .Accordingly we introduced latest technology to have no injection no pain treatment.  Akil Clinic is committed to change the way people feel towards dentistry. We make our patients feel at home and offer them unmatched dental treatment. We do whatever is within our power to ensure a great dental tourism experience for our patients, and make sure each and every patient leaves Akil Clinic satisfied and smiling brightly.
Each treatment room is furnished with the very latest equipment to maximise patient comfort. By using only the best technology available worldwide, we allow our dentists and technicians to produce consistently best results for our patients. All our equipment and materials are selected from the best, most highly reputable brands and international suppliers
Because we believe that Kids should be loved, cared for and protected, we strive to provide exceptional pediatric oral health care for your child. We change the way kids feel about going to the dentist. Our dentist and staff are committed to providing your child with the best possible visit every time. Whether it's preventative or restorative dental care, we go the extra mile to ensure that infants, children, and adolescents have a friendly, upbeat dental visit in an environment that is joyful. We will manage your child dental needs regardless of how complex it is.
The Akil Clinic Dental team offer a full range of restorative and cosmetic dental treatments including porcelain crowns and bridges,  Veneers and Smile Makeover, Dental Implants, Root Canal Treatment, Gum Disease Treatment,  Teeth Whitening, White fillings, Wisdom Teeth Removal, SedationDentistry and more.
Our philosophy is simple; we help our patients achieve healthy teeth and gums while creating beautiful smiles in a comprehensive, yet minimally invasive way. We enhance a patient's smile with methods that are the most advanced and least destructive to save the tooth's structure as much as possible.