What is dental bonding?
Dental bonding is an extremely simple and economical approach to repair chipped or split teeth, whiten intensely stained teeth, fill holes between teeth, and change the shape of teeth.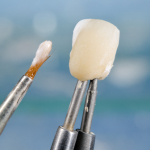 How long does getting dental bonding take?
It typically requires only one visit.
What are the drawbacks with dental bonding?
Dental bonding does not last as long as, for example, dental crowns and porcelain veneers. In addition, dental bonding is not as resistant to stains as crowns or veneers. After a consultation with us, we'll be able to determine if dental bonding is the best course of action for you.